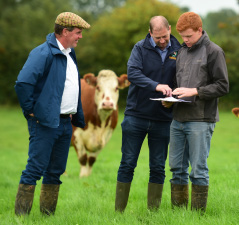 Tom Halpin farms 64 ha at Robertstown, Carlanstown, Kells, Co. Meath assisted by his wife Anne and children Matthew, Claire & Laura.
The Halpin family have over the last 12 years been working on developing a closed suckler herd which when driven by good grassland management can result in a sustainable enterprise.
To assist the above goal, Tom joined the Teagasc / Irish Farmers Journal BETTER farm programme in 2012. This programme focused on three main aspects: Grassland Management, Breeding / Genetics & Herd Health. During the period of the programme the suckler herd size expanded from 60 to 100 cows with all progeny other than replacement heifers finished on the farm.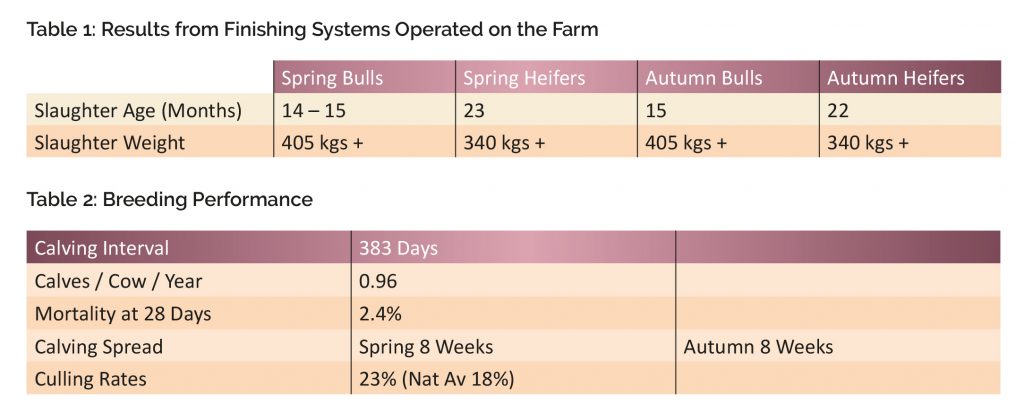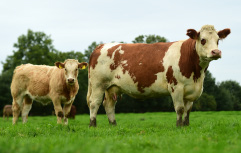 Currently the herd is split into a 60:40 Spring/Summer calving system which works very well providing a greater spread on timing of sales while reducing the spring workload. All heifers are targeted to calve at 24 months and Tom finds that "once these heifers are well looked after they perform well and calving young doesn't impact on their fertility or longevity".
Herd Type:
The cows mainly consist of a cross between Simmental/Limousin & Charolais with a bull from each breed kept to maintain this crossing pattern. This allows Tom to focus on both Replacement and Terminal traits within his herd.
Also as the farm operates an U16 month bull finishing system, it is important that the bulls have the ability to achieve a 400+ Kg carcase as this age and Tom find the Simmental genetics a major plus in this regard. The farm is also in the BDGP scheme and currently his report shows that based on the reference year 99% of the females are four or five star.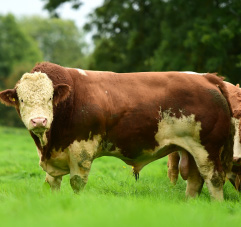 The Simmental Stock bull currently on the farm is a 2014 born Shanehill Brandy son Moyle Fantastic who is out of a Kilbride Farm Newry dam. This bull was purchased in September 2015 and the first batch of progeny are performing exceptionally well as they hit just over 12 months and this Springs calves are also performing well.
Tom explains that "his Simmental bull is proving to be easy calving with a high growth rate in his progeny"