Simmental Premier Sale Tops at €13,200
The Irish Simmental Cattle Society held is Autumn Premier Show & Sale at Roscommon Mart on Saturday last and one of the biggest entries of Simmental Cattle put forward for sale in recent times, met with good demand especially on the female side.
First up was the male section and a top price here of €11,100 was received by Kieran & Paul Mullarkey, Ballinaful, Co. Sligo selling Lissadell Nailer ET. Born in August `21 this stylish Kilbride Farm Delboy sired bull was out of Tawley Gretta who in turn is sired by Monaduff Snorter. This lot was purchased by Gavin Hayes from Lisburn, Co. Antrim to join his Haystar Pedigree Herd.
Recording the second highest bull price of €9600 was John & Ronan Tuohy, Whitegate, Co. Galway. This homozygous polled bull Coose Negotiator PP is sired by their stockbull Tulla Jaguar P and is out of a Promi dam Coose Hermajesty P. Purchasing here was Gerald Smith & Robert MacGregor Scotland for their Drumsleed & Team Herds respectively.
The Tuohy family were up again with lot 18 Coose Nijinsky P ET hitting the €8000 mark. Born in July `21 this Snaebum Campari PP sired bull is out of a Curaheen Vosco dam Knockane Betty. Co. Wicklow based breeder James Fox was the buyer for his Sugarloaf herd.
Nigel Hogan from Bennekerry, Co. Carlow sold lot 34 Rathnashan Newtown ET for €5200. This 13-month-old bull is sired by Mullyknock Gallant and is out of a Tiset Darwin dam Curaheen Golda P ET. This young bull is also heading to Scotland to the Strathisla Herd of Adrian Ivory.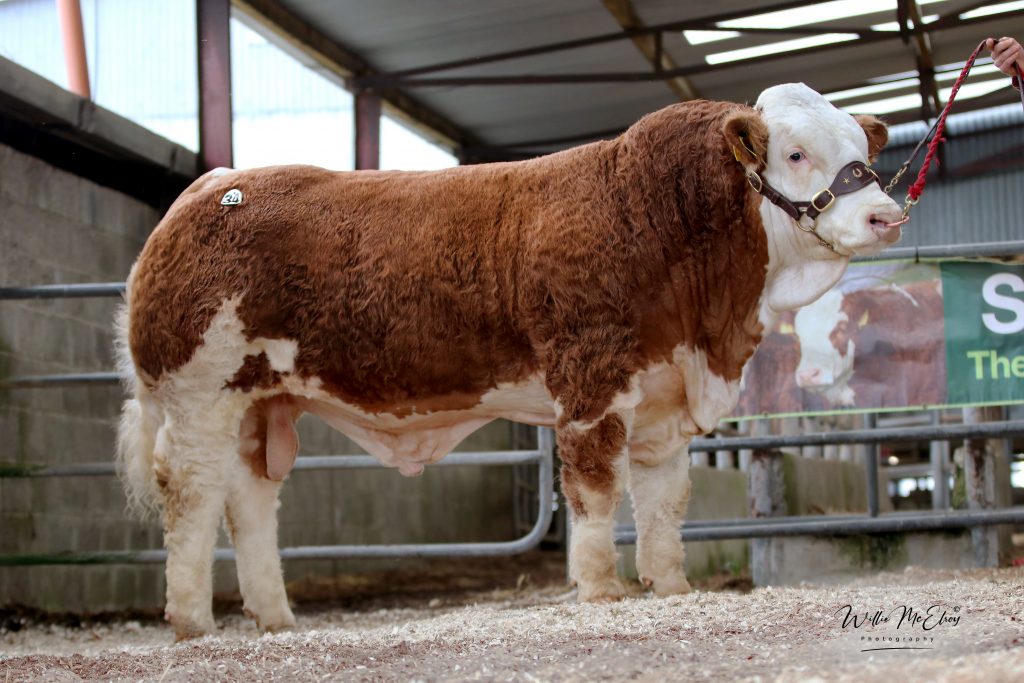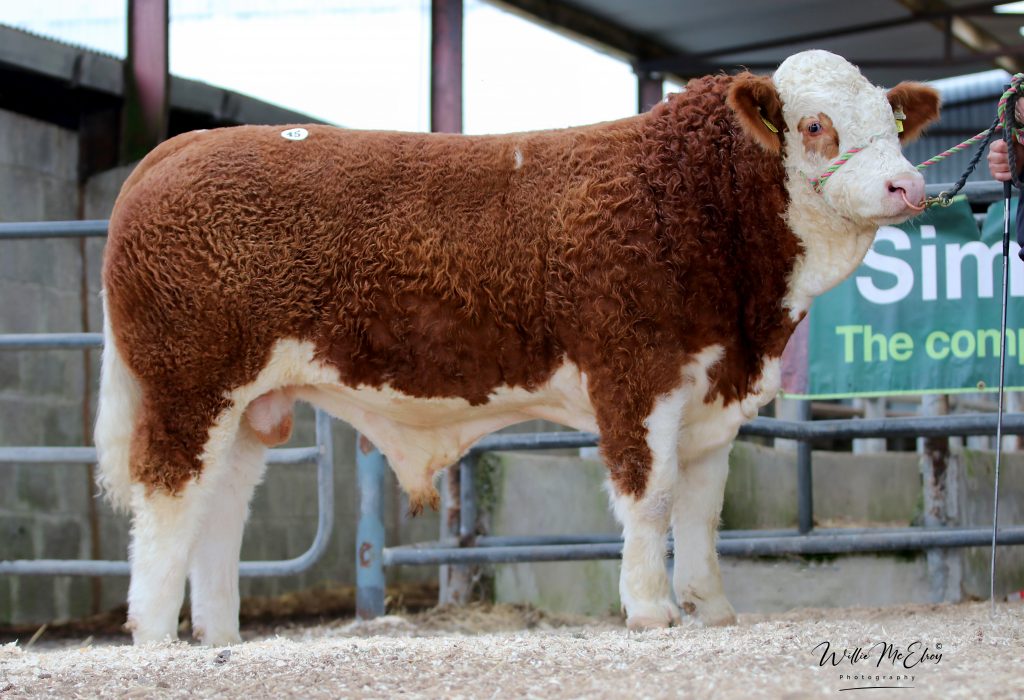 The €5000 mark for bulls was hit twice and first up was another entry from the Tuohy Family, Coose Nelson P ET. At 13 months this Auroch Deuter P sired bull is out of a Curaheen Warrior dam Auroch Desira and was purchased by Michael Durno for his Auchorachan Herd in Banffshire, Scotland. Also achieving €5000 was lot 39 Lissadell Newman VIP ET exhibited by Kieran & Paul Mullarkey, Sligo. At just under 12 months of age this Dermotstown Delboy sired bull is out of Corbally Eires VIP who in turn is sired by Milnafua Graduate. The purchasers here were John & Tina Gosmore Newtown House Simmentals, who are based in Chester in the UK.Overall, the bulls averaged €4640 with a 58% clearance recorded.
*****
The female section recorded the highest price of the day when Fearna Molly ET was purchased by Joe Wilson, Newry, Co. Down at €13,200 for his Ballinlare- Farm herd. This December `20 born heifer was exhibited by Gerry Neenan, Ballyhaunis, Co. Mayo. Fearena Molly was placed as Senior Heifer Champion in the pre-sale show which was judged by Clivew Houdley from the Manorpark herd in Scotland, is sired by Curaheen Gunshot and is out of a Raceview King dam Fearna Vienna.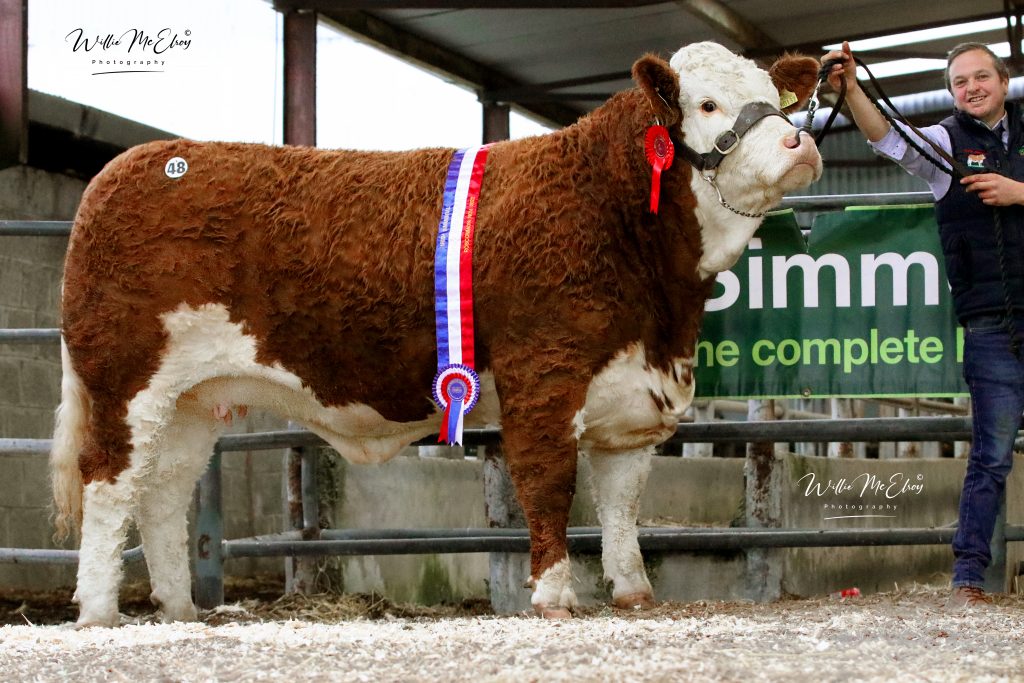 Next highest priced female at €11400 came from the Coose Draft section when the Tulla Jaguar P sired Coose Merle P and out of a Curaheen Drifter dam Curaheen Flame was purchased by Chris Traynor for his Kilmore Herd in Co. Armagh.
The great day for the Touhy Family continued when their last entry in their Draft section sold after the sale for €10000 to another Scottish Breeder Bruce Lambie for his Fallhills Pedigree Herd. Another Tulla Jaguar P daughter this February `21 heifer is out of an Auroch Deuter dam Coose Juggler P.
The reserve Senior Heifer Champion Crossane Magnificent P ET was exhibited the McGovern Family Fivemilebourne Co. Leitrim. This 24-month heifer was sired by Glebefarm Tyson and out of a Dermotstown Delboy dam Lissadell Just the One. €4000 was the selling price here,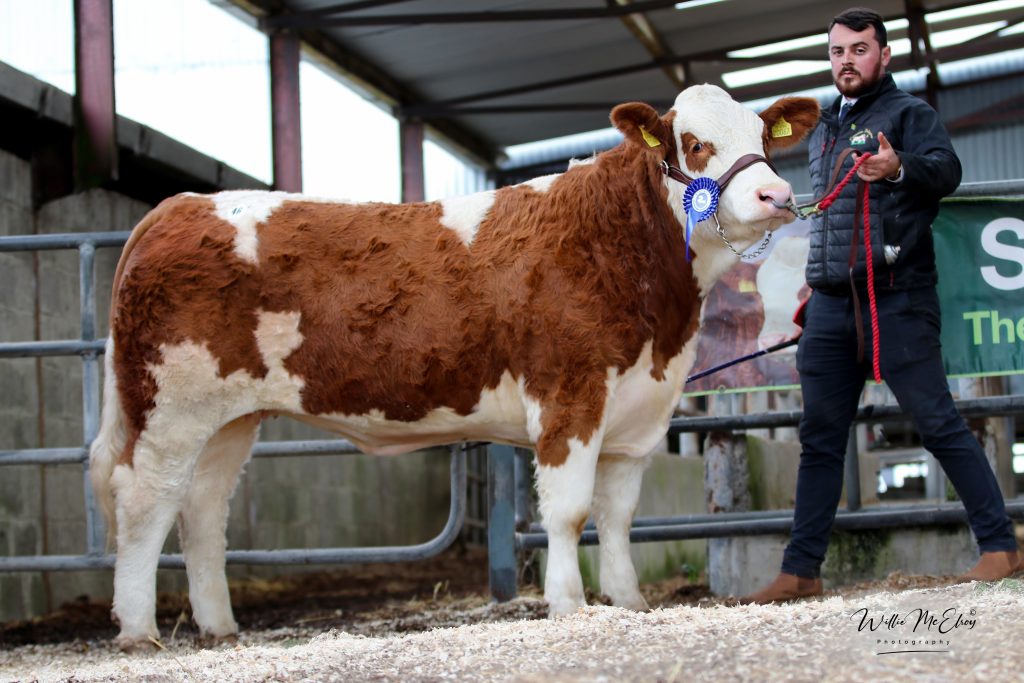 In the Junior Heifer section, Champion went to Maurice Darcy, Boyerstown, Co. Meath with Boyerstown Niecey, a June `21 born heifer sired by Ballinalare Farm Galaxy. This heifer selling at €4000 was out of a Denzies Fantastic dam Ballinalare Farm Imogen. Declan & Ryan Callan, Castleblaney took reserve Junior with Thornford Nelly P ET selling for €2700. This January `21 born heifer is sired by Coose Gambler and out of an Auroch Bullet dam Seafort Fiona.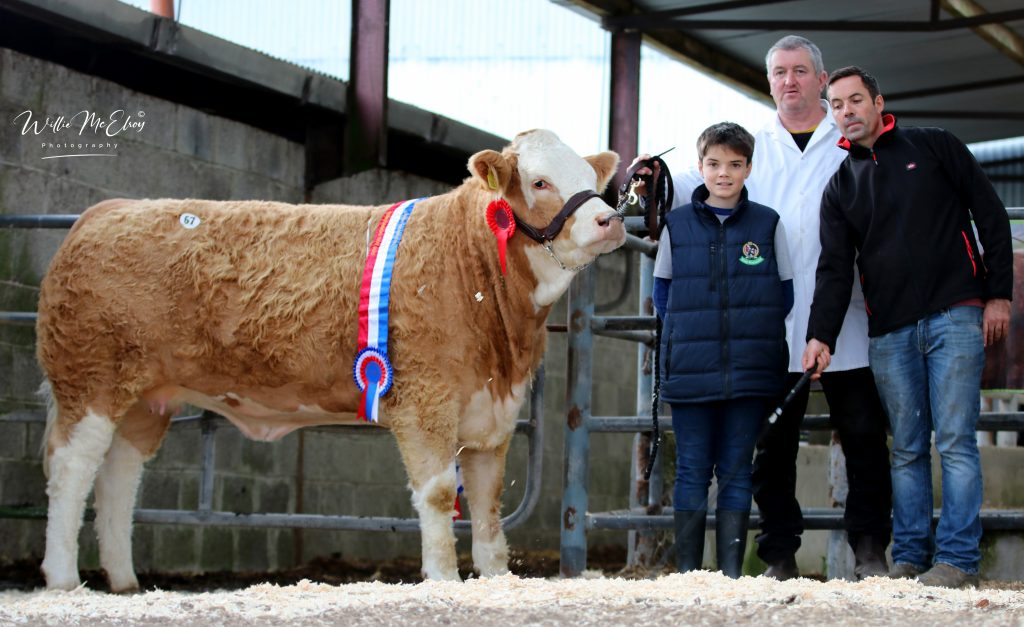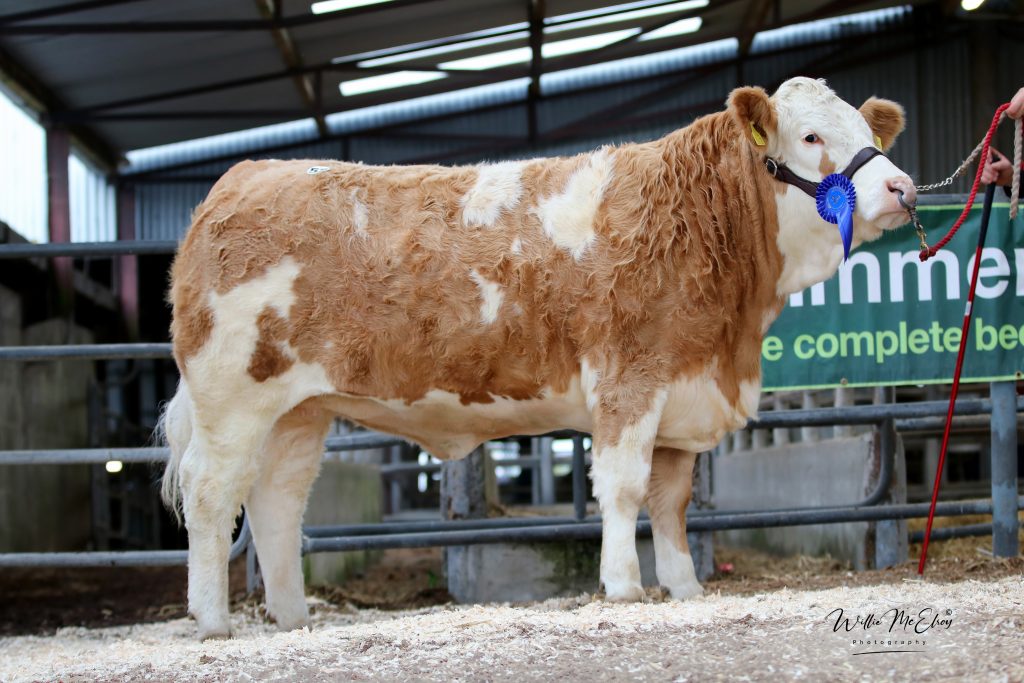 Next up was the Yearling Section and taking Champion here was Joe Kelly Ballynacally, Co. Clare with Mount Natalia a Hillcrest Champion sired heifer who was out of a Raceview All-Star KK dam Woodhall Daphne. This 14-month-old heifer sold for €€4900. Reserve Yearling went to Duff Nifty Girl exhibited by John & Barry Duffy, Ballybay, Co. Monaghan. Sired by Coose Gambler and out of a Curaheen Tyson dam, Duff Helen this 13-month-old heifer sold for €2600.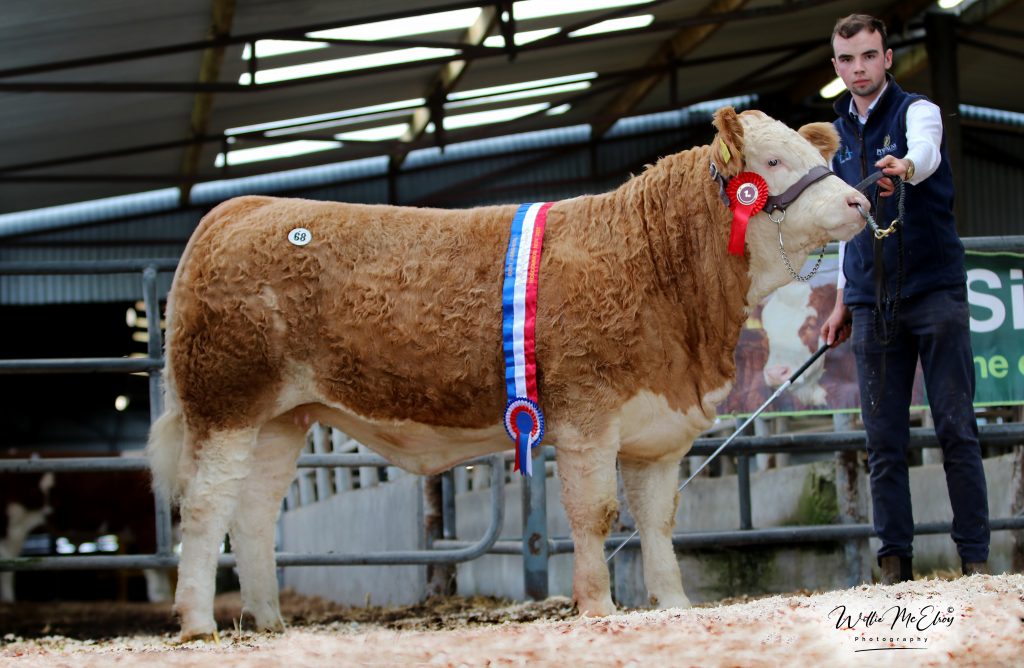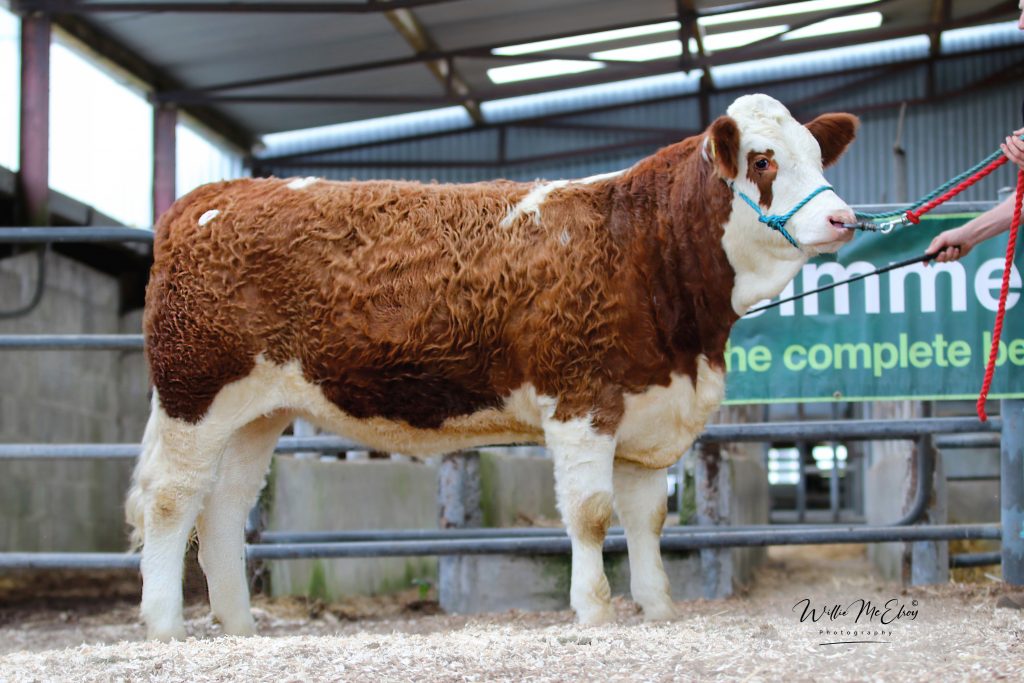 IN the Weanling heifer section both Champion & Reserve went to David Houston, Newtowncunningham, Co. Donegal with Moyle Nicholas & Moyle Nicola respectively. Both heifers are sired by Derreen Jack and out of homebred dam Moyle Joyce by Anatrim Gigalo & Moyle Little Katie by Moyle Hunter. The Champion here sold for €6100 with the reserve selling for €3100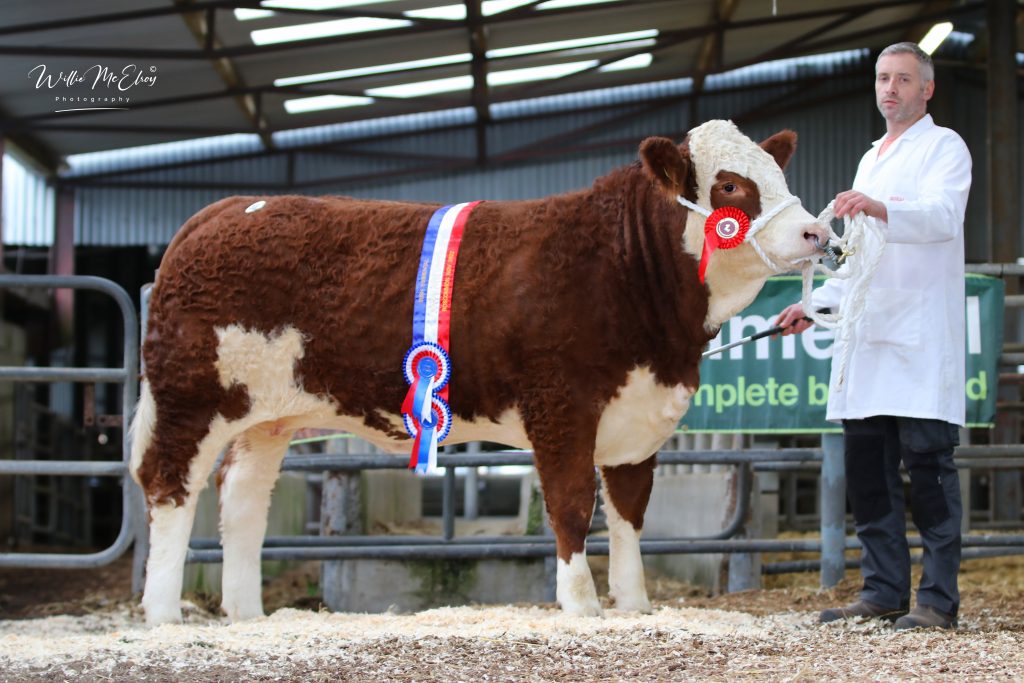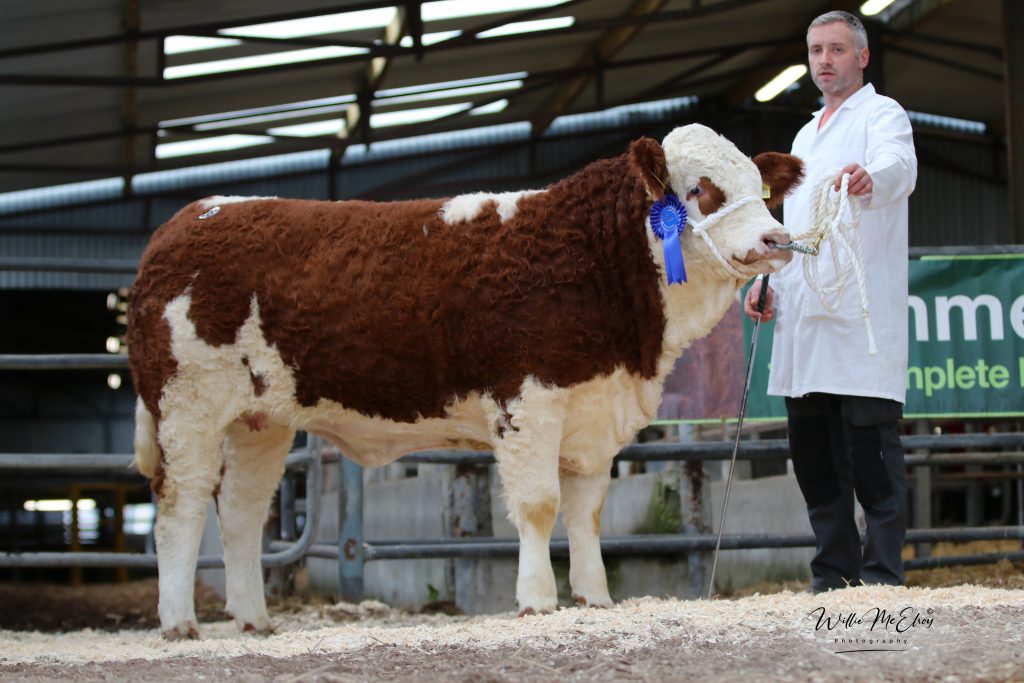 The final class of the day was the Heifer calf class and Champion here went to Nigel Hogan, Bennekerry, Co. Carlow with Rathnashan Naughty Hei ET. This late December born heifer is sired by Seafort Gill and is out of a Kilbride Farm Bantry dam Rathnashan Heidi ET and sold for €5000.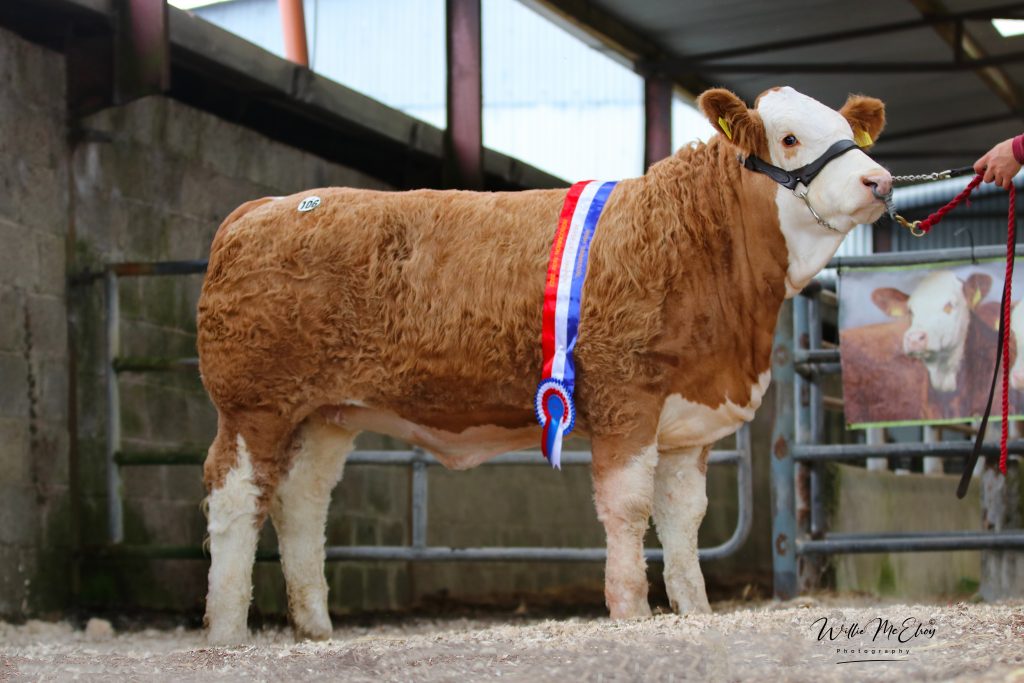 Other notable prices in the main sale heifer section included:
Lot 57 – Fairymount Narina selling for €4000 sired by Saltire Impressive and exhibited by John Joe & Sean Carroll.
Lot 98 – Exhibited by Kieran & Paul Mullarkey, Lissadell Nice One ET selling for €4800 sired by Hillcrest Champion.
Lot 100 – Mount Nespresso P selling for €6000 sired by Curaheen Evolution and exhibited by Joe Kelly.
Lot 102 – Carbery Nalani sired by Saltire Impressive, selling for Keith Vickery at €4600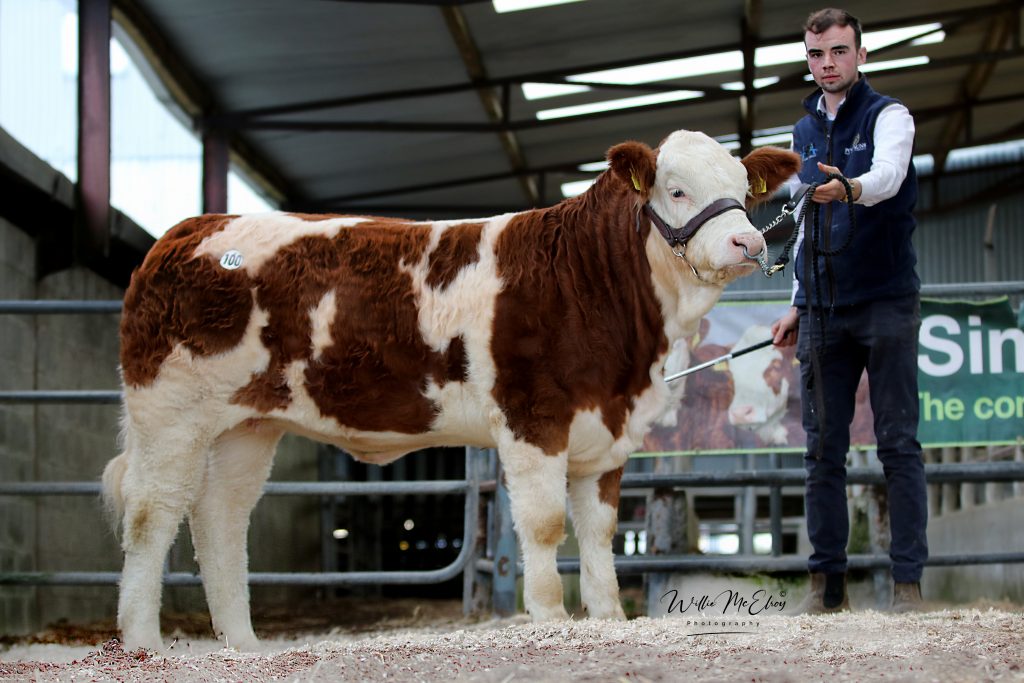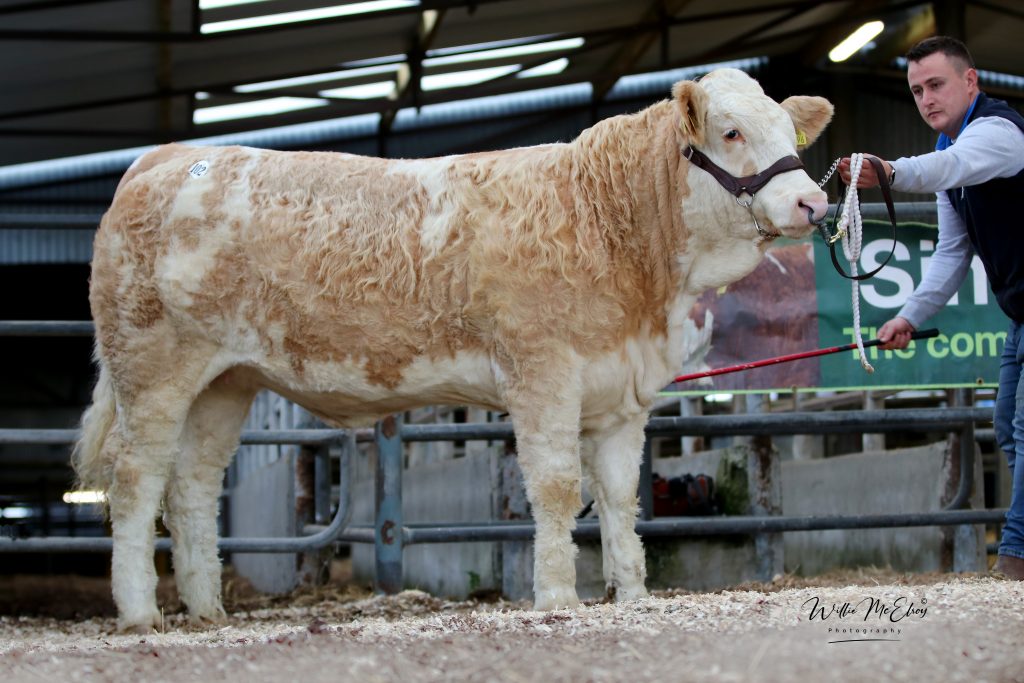 *****
In the Draft Section three offering were put forward for sale from John & Ronan Tuohy, Coose Herd, Killian Farrell Suirville Herd & Oliver & Adrienne Deane Mountford Herd and other notable prices here included:
Lot 112 – Coose Nessa sired by Curaheen Evolution selling for €4900
Lot 117 – Coose New York P selling for €7500 sired by Tulla Jaguar P
Lot 121 – Suirville Misty Eyes ET sired by Kilbride Farm Dragoon selling for €5100
Lot 126 – Suirville Nelly Eyes Et selling for €3600 sired by Mullyknock Gallant
Lot 13A – Mountford Holly, sired by Seaview Ever Charming selling for €4100.
Lot 133 – Mountford Kim sired by Seaview Ever Champing selling for €3000.
Overall, the female section recorded a 76% clearance with an average price of €3560.
*****
Just prior to the start of the female section the Simmental Society made a presentation to Maura Quigley, to mark her retirement as Manager of Roscommon Mart. The Society thanked Maura for all her help and assistance over the years and wished her well in her retirement. Maura thanked the Society for their support of Roscommon Mart and highlighted developments and changes during her time at the mart.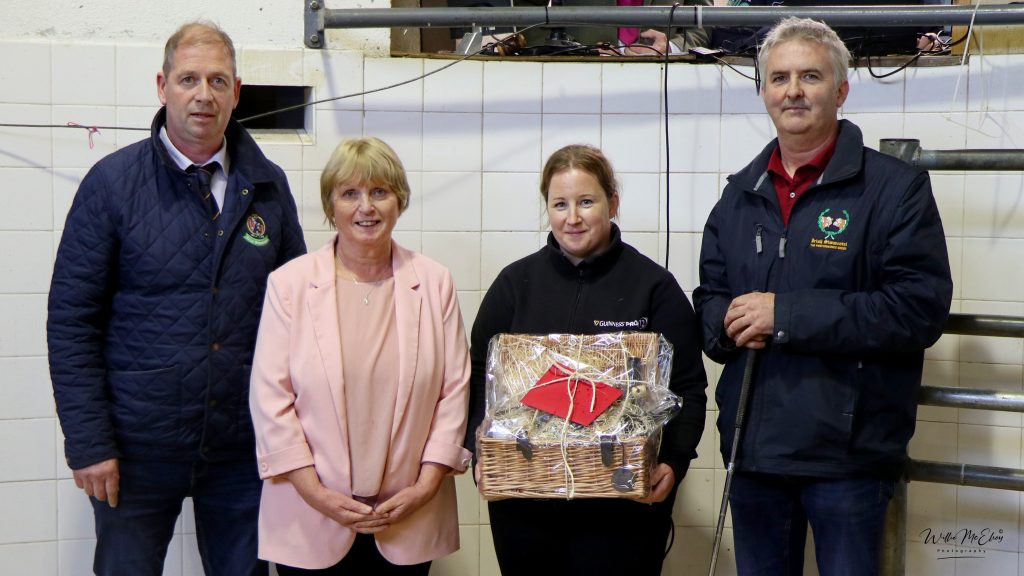 *****
Photo's Courtesy of Willie McElroy Photography