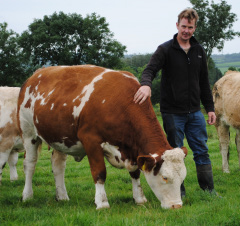 John Browne from Doonane, Crettyard, Co. Laois is somewhat unique in today's farming circles in that he has recently established a Suckler Herd. In 2015 John decided to switch into suckling and after studying different breed options decided to establish a herd focused at breeding high end replacement heifers while also producing high performing male progeny. John plans to hit 45 cows this year when his replacement heifers calve and join the herd.
John's cow choice is Simmental X and from these he will retain his replacement heifers and plans to sell his surplus at breeding heifer sales and also direct off farm once established. His cows are very well bred and in fact are close to ¾ Simmental.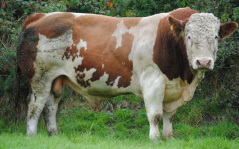 A Simmental bull was purchased to run with the herd and he is very pleased with the quality of the progeny as they are very natural fleshing and have high growth rates. This bull is Knockane Elephant a 2013 born Knockane Banjo son. Another very pleasing aspect of the Simmental bull for John is the fact that he is very easy calving which is a big time saver for him as he also works off farm.
John has just recently sold a batch of weanling bulls to a beef finisher direct off the farm and is very pleased with how these young bulls weighed bearing in mind that they were only on average 10 months of age. When taking fresh weight and expenses into account he reckons that he would close to €2.65 /kg if selling at a sale to match what he received.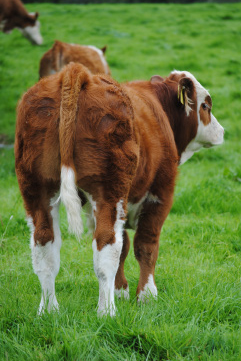 Some A.I. is being used on the replacement heifers with easy calving Limousin and Charolais sires selected and the first progeny of these are due shortly.
In discussion with John it is very clear that he is very passionate about his cows and progeny and while only at this for a few years sees the difficulty in making decent margins and with that in mind John is in full support of recent calls for additional support for the sector. He highlights the recent Irish Farmers Journal "Save Our Sucklers" project as very necessary and is 100% behind it.
In conclusion, John hopes to strive to continually improve the overall quality and performance of his herd and is delighted that his son Sean, who at only 12 is showing a keen interest in the livestock.