Hall Of Fame Award 2013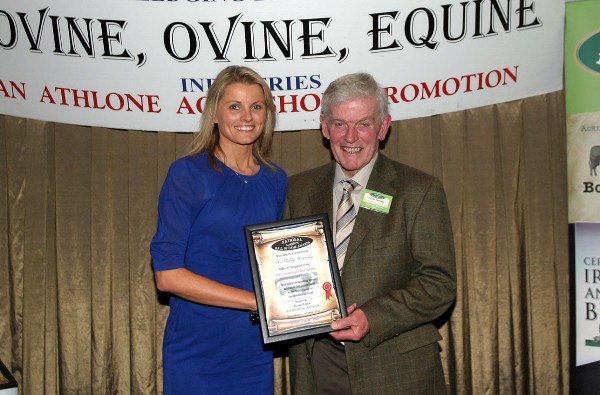 In 1991, Paddy and Eithne Hennelly set up the Seepa Simmental Herd with the purchase of Huntstown Rubie from Patrick Kavanagh, Island Farm, Gorey, Co. Wexford. This was followed by purchases from Michael Tiernan's Cranmore Herd, Ballyhaunis, Co. Mayo. Paddy along with his daughter Elaine were from the outset exhibitors of their cattle at local shows in the Western Club area and in 1994 represented the club at the National Ploughing Championships in Gorey, Co. Wexford, a first for a Western Club Member.
In 1997, Paddy made his first purchase from the Hillcrest Herd of Padge Mulhare when buying Hillcrest Geraldine. In 1999 Paddy went back to Hillcrest and acquired Hillcrest Joan & Hillcrest Jezebel, two heifers that would go on and have great Show and Breeding careers.
Hillcrest Jezebel in her first year in the herd won the National Yearling Heifer Title at Tullamore Show. She went on to breed 'Seepa Nikita' National Senior Heifer Champion in 2004, 'Seepa Padge' National Bull Calf Champion 2003 and 'Seepa Roxy' National Senior Cow Champion and Beef Expo Female Champion 2010.
Hillcrest Joan was probably one of the great cows of the Simmental breed. She was twice Supreme Champion of Tullamore Show and also Interbred Champion in 2000, in front of the World Simmental Congress Delegates. She won four National Cow Titles and in 2005 was the Supreme Champion for her second time at Tullamore National Livestock Show, when on the same day two of her daughters, 'Seepa Pearl' and 'Seepa Regina' were National Senior and National Junior Heifer Champions respectively, a feat that will take matching.
Finally on the show circuit in 2012 Seepa Aster, a grand-daughter of Hillcrest Joan was judged the Supreme Simmental Champion at the National Livestock Show. Seepa Tee-Jay a son of Hillcrest Joan by Star Hugo was purchased by NCBC and bred very stylish heifers and was used widely by commercial farmers to breed replacements.
From the outset Paddy was involved in the running of the Western Simmental Club serving as Treasurer and Chairman and worked tirelessly to increase the club membership and activities including sales and field days and in the constant quest for sponsorship to fund all these activities. In 2000 the Western Club organised a field day for the delegates of the World Congress on the farm of the late Arthur Dillon and Paddy was to the fore front of this day as Chairman. The day itself was a great success with over 2,000 people attending and all funded by sponsors from the region. He was also one of the founding members of the famous Simmental Cross Breeding Heifer Sale in Ballymote, now in its 17th year.
In 1996 Paddy was elected to the Council of the Irish Simmental Cattle Society and served terms as Treasurer, Vice-Presdient and President of the Society twice in 1997 and 2004. He was also instrumental in involving the young people in the Society by organising essay competitions which were sponsored by AT Cross. In 2004 on completion of his presidency he purchased and presented to the Society a golden presidential badge to be worn by each president whilst in office.
Paddy also represented the Irish Simmental Cattle Society at the Pedigree Cattle Breeders Council meetings and served as Secretary of the PCBCOI for four years.
Cattle from the Seepa Herd have been purchased by Irish, Scottish, English and Northern Ireland breeders down through the years. Simmental cattle were always the only breed for Paddy and his Seepa Herd and we have no doubt that this will continue into the future.