Simmental Premier Show & Sale at Roscommon Saturday March 11th records increased average price.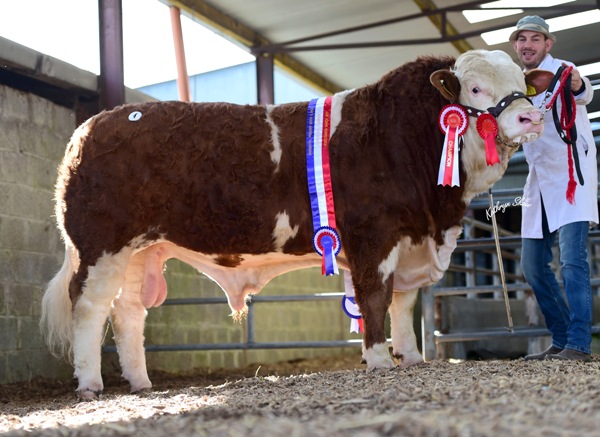 The Simmental Premier Spring Sale which took place at Roscommon on Saturday, March 11th saw an increased average price on the corresponding sale last year with a similar number of bulls sold. A lot of sales activity leading up to the sale resulted in a reduced number of bulls being put forward for sale. Judging was, Andrew Sleigh from Aberdeenshire, a regular visitor to Roscommon.
Topping the day's trading at €8700 was the Senior Champion, Clonagh Go Go Dancer, exhibited by Garrett Behan, Ballyfin, Portlaoise. This September 2015 born bull is sired by Kilbride Farm Dragoon and is out of a Banwy T-Rex dam Clonagh Alison. R & M Hamilton, Aberdeenshire, Scotland purchased this bull.
Next up selling at €8000 was Towerhill Happy Harry for the Aherne Family, Cappamore, Co. Limerick. Sired by Curaheen Dickens and out of a Celtic Benny sired dam Towerhill Dirty Diana, this March 2016 born bull was purchased by the Woods Family, Preston for their Popes Simmental Herd.
The Junior Champion, Rathnashan Hunzo, was exhibited by Nigel Hogan, Bennykerry, Co. Carlow and sold for €6400 to Westmeath Suckler Farmer Padraig Fegan from Castletowngeoghegan. This March 2016 born bull was sired by Auroch Bullet P and out of a Curaheen Viking dam Seafort Cara.
The Reserve Senior Champion, Dermody Gus, was exhibited by Noel Jagoe, Drinagh, Co. Cork and sold for €3000 to William Harkness, Co. Antrim. Sired by Kilbride Farm Bantry and out of Dermody Ali, a Kilbride Farm Newry Dam this bull was born in September 2015.
The Reserve Junior, Rathlee Hunk, was exhibited by Gerry Lenehan, Rathlee, Easkey, Co. Sligo. This 14 month old bull was sired by Clonagh Tiger Gallant and out of a Celtic Rock dam Glebefarm Wanda. Tomas Deely, Ballinasloe was the buyer at €2300.
The National Cattle Breeding Centre added to their Simmental collection with the purchase of Kickhams Handsome from Michael Keating, Mullinahone, Co. Tipperary. €5200 was the purchase price of this Curaheen Wakleman sired bull that was out of a Marbelhill sired dam Toryhill Violet.
The youngest bull of the day was exhibited by the Wall Family, Newcastle, Co. Dublin, Auroch Highway Man ET, born on March 31st 2016. This Carnkern Titan sired bull was out of the Dirnanean Jacob dam Curaheen Tatiana. Michael Byrne, Clogherhead, Co. Louth boughtthis young bull at €5000.
Other Prices included:
€4500 to Paul McArdle, Castleblaney, Co. Monaghan for Broomfield Gerry, a Kilbride Farm Delboy January 2016 born bull purchased by Vincent Keane, Kinvara, Co. Galway.
€4400 to Joe McGarry, Newtownforbes, Co. Longford for Clonguish Hector ET. This Omorga Murray sired February 2016 bull was purchased by John Kelly, Kiltoom, Athlone.
€4000 to Gordon Salter, Dunmanway, Co. Cork for Mohona Gerry, a September 2015 Kilbride Farm Bantry bull purchased by John Kelly, Saggart, Co. Dublin.
€3800 to Padraig Hanly, Lisnari, Roscommon for Lis-na-Ri Handsome. Sired by Anatrim Bodybuilder this 13 month old bull was purchased by Nancy Maheday, Killalla, Co. Mayo.
Overall the average price for bulls was just over €3800 with an 89% clearance.
In the Female Section Overall Champion went to Shiloh-Farm Glamorous Lady exhibited by the Murray Family, Parkwood, Moate, Co. Westmeath. This April 2015 born heifer is sired by Delfur Decider and is out of a Dovefields Gallant dam Shiloh-Farm Delightful Lady and is InCalf to Samark Superman. The purchaser here was JJ & JM Saunders, Newcastle at €2900.
Topping the heifer trade at €3600 was Killian Farrell, Golden, Co. Tipperary with Suirville Grace. This November 2105 born heifer is sired by Kilbride Farm Dragoon and is out of a Banwy T-Rex Dam Clonagh Diamond Eyes ET and was purchased by the Connolly Family, Carrigallen, Co. Leitrim.
The Reserve Champion, Mount Heidi, was exhibited by Joe Kelly, Ballynacally, Co. Clare. This January 2016 born Delfur Decider sired heifer is out of a Glebefarm Tyson dam Mount Carol. This young heifer joins the Atlow Pedigree of David Donnelly, Derbyshire at €2600.
The Murray Family also exhibited Shiloh Heidi a 12 month old Kilbride Farm Delboy sired heifer who is out of a Dovefields Gallant dam Shiloh-Farm Elegant Royal. This heifer was sold for €3250 to Dominic Ginty, Westport, Co. Mayo.
Selling at €2950 for John Tuohy was Coose Heather sired by Auroch Bullet P. Robin Boyd, Portglenone, Co. Antrim purchased this heifer that is out of a Curaheen Viking dam, Seafort Brona.
The average price for heifers was €2460 which was down €500 on the corresponding sale last year with a 60% clearance.
The next Simmental Sale will take place in Tullamore on Friday evening April 7th