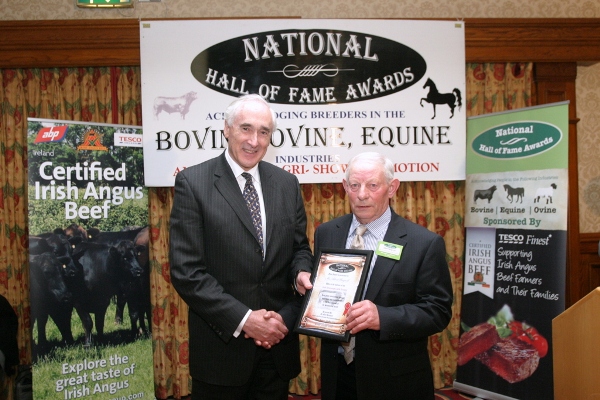 Simmental Hall of Fame 2012
Mr. Albert Bagnall, Ballycommon, Tullamore, Co. Offaly.
A lifelong suckler farmer, Albert experimented with a number of breeds before committing to Simmental because as Albert explains "they performed best for him". In the late 1970's Albert purchased his first Simmental bull in the first Society bull sale held at Edenderry Mart. In 1979 he purchased a bull at Maynooth "Clonsilla Jacob". This bull left a serious impression on Albert's suckler herd and got him thinking about pedigree breeding.
In 1981 Albert and his wife Irene established the "Ballingar Simmental Herd" with the purchase of a maiden heifer "Clonsilla Karen" from J. O`Mara, Clonsilla, Co. Dublin. "Karen was a "Hamlet" heifer and her first calf "Ballingar Noble" by the "Siegfried" son "Clare Granada" was held as a stockbull. Karen also bred another stock bull held at Ballingar, "Ballingar Rover" by "Enfield Benz"
While many females were purchased over the year's the only other bull purchase came in 1992 when "Corlesmore Barron" was bought from the McKiernan Brothers, Co. Cavan.
1995 saw the birth on the farm of "Ballingar Franco". A "Hillcrest Butcher" son out of a "Sterling Parliamentarian" cow "Ballingar Daphine" "Franco" established himself as a bull that left a big impact on the Simmental breed.
In October 2003 a decision was reluctantly taken to disperse the herd. By now the herd had been built up to over 60 breeding cows and followers. This sale proved to be one of the best Simmental sales and left many herds with new bloodlines. Two of the most notable purchases at this sale were:
"Ballingar Hester" purchased by David Hazelton, Co. Tyrone. A six year old cow by "Star Hugo" "Hester" went on to have a very successful show career in N. Ireland and some of her successes included Reserve Female Champion at Balmoral & Simmental Pair of the year for 2004. Supreme Champion at Lurgan & Antrim shows in 2005.
"Ballingar Kim" purchased by Peter & Marion O`Connell, Raceview Simmentals. A four year old cow by "Ballingar Franco", "Kim" went on to breed 3 National Title winning animals to date and "Dripsey Super King ET" standing in A.I. in N. Ireland and "Raceview All-Star KK ET" purchased by Woodhall Simmentals, Scotland.
However it was with great delight to all Simmental Breeders that Albert decided to retain a number of cows and today has three breeding females in his herd.
Albert has always been an active member of the South Eastern Simmental Club and represented his Club for six year's on National Council before retiring from Council in November 2011.
Albert continues to act as an official Judge for the Irish Simmental Cattle Society and can be seen judging at many Summer Shows
The Irish Simmental Cattle Society would like to thank Albert for all his work throughout the year's on behalf of the Simmental breed and wish him and Irene many more years of health and enjoyment. All Simmental enthusiasts know that wherever Simmental cattle are, whether it's the National Livestock Show, Sales or Farm Walks, Albert Bagnall will not be too far away.