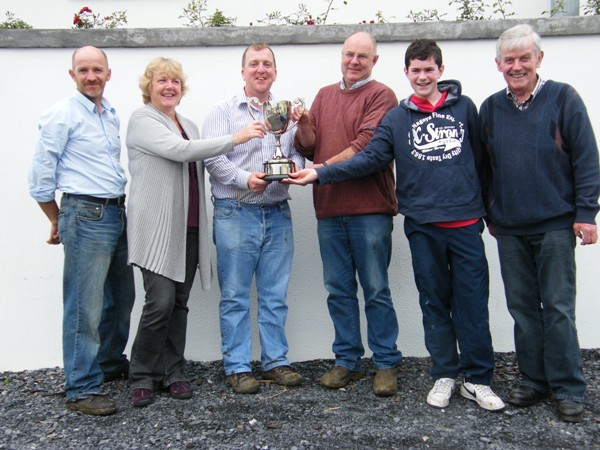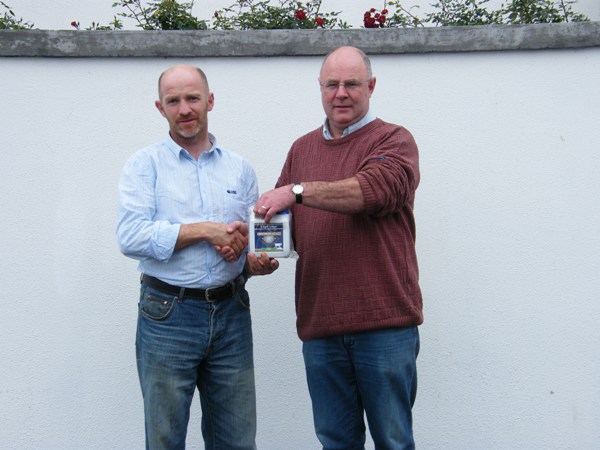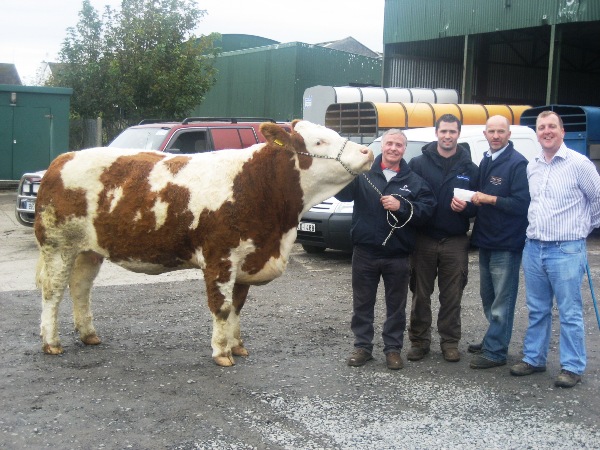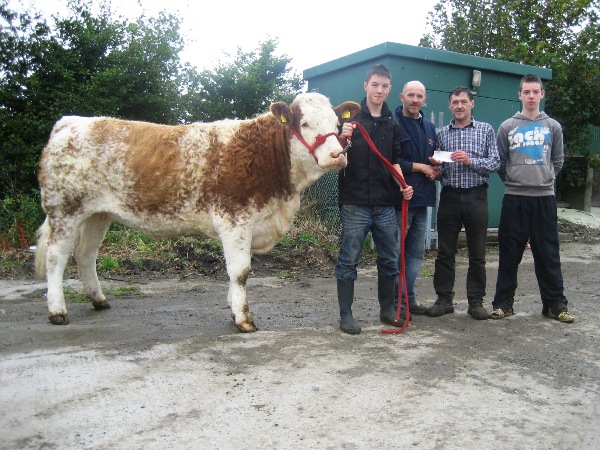 Simmental x Females break new records at the Simmental x Sale held on Saturday Oct 1st at Connacht Gold Mart Ballymote Co. Sligo.

A new record was achieved for an in-calf Simmental X Heifer at The Simmental X Sale, held in Ballymote Mart on Saturday 1st October 2011. A packed ringside of eager customers looking for quality stock witnessed an in-calf heifer sold for a record price of € 4,340. This rising 3 year old heifer sired by Rathlee Trevor and in calf to the Simmental bull Curaheen Tyson was exhibited by Gerry Lenehan, Rathlee, Easkey, Co. Sligo. This heifer was sold to Mr. Eugene & Tony Hughes, Carrickmore, Co. Tyrone, who are repeat customers of the Ballymote Simmental X Sale. Gerry also had the next highest in-calf price for another rising 3 year old heifer due to calf in December to Seepa T-Jay. This heifer realised €3,420 and was sold to local suckler farmer, Mr Sean Waters, Maugherarow, Co. Sligo.
Mr Martin Lundy, Tourlestrane, Co. Sligo sold an in calf heifer due to calf in October to Seepa T-Jay for €2,750. Gerry Lenehan sold 8 in calf heifers to an average €2,352 and Mr. Michael Glennon, Ballydangan, Co Roscommon, sold 14 in calf heifers to an average of €2,190. Very strong demand outstripped supply with quality in calf heifers freely making over €2,000.
In the maiden section, another new record for the Simmental X sale was achieved when Michael and Saoirse Oliver, Swinford, Co. Mayo, got €3,300 for their 20 month old maiden heifer sired by Curaheen Vio. This heifer was a double all Ireland Champion winner and was purchased by David Kilkenny, Aughamore, Ballyhaunis, Co. Mayo. The next highest maiden heifer price €1,850 for 525kg, exhibited by Mr Padraig Cunniffe, Knockbaun, Knock, Co. Mayo. This heifer was purchased by Mr. Eddie Lynch, Bovi Genetics, Drumbannow, Loughduff, Co. Cavan. Gerry Lenehan purchased the next highest priced maiden heifer €1860 for 595 kg. This heifer was exhibited by Ray Bracken, Daingan, Co. Offaly.
Pat Gallagher, Carralavin, Bonniconlon, Co. Mayo sold 6 heifers averaging 507kg for an average price of €1285. David Dillon, Carrowmore, Sligo sold 10 heifers with an average weight of 470 kg for an average price of €1245. Martin O'Malley, Ballinrobe, Co. Mayo, sold 11 maiden heifers averaging €1276 for 506kg. John Connor, Carracaslte, Ballaghdreen, Co. Mayo sold 3 heifers averaging over €3 per kg, 550kg, 525kg and 505kg for €1720, €1500 and €1700 respectively. All these heifers were born in March 2010.
Mr Eddie Lynch, Bovi genetics, Drumbannow, Loughduff, Co. Cavan, purchased 6 maiden heifers averaging 540kg, with an average price of €1568. The fact that all heifers were BVD tested lead to Eddie purchasing these heifers for use in his embryo transfer work.
Top price in the weanling heifer section was €1250 for 405kg heifer, exhibited by John Gallagher, Carralavin, Bonniconlon, Co. Mayo. John also sold another weanling heifer €1170 for 350kg. Gerry Niland, Drimbane, Curry, Co. Sligo sold 2 weanling heifers €1210 for 455kg and €870 for 330kg. Padraig Kennedy, Cretta, Elphin, Co. Roscommon, sold a weanling heifer for €1040 for 370kg.
A red hot trade lead to 100% clearance in each section. Local and national buyers had to compete with buyers from Northern Ireland to secure the quality stock on offer. A new feature of this sale was all cattle were export and BVD tested. This led to buyers having more confidence in purchasing animals at this sale with such a high health status.
This sale was sponsored by the Dillon family, Carrowmore, Sligo in memory of the late Arthur Dillon, who was instrumental in the establishment of this Simmental X Sale at Ballymote, which has now been running for the past 16 years and is going from strength to strength year by year. The Arthur Dillon memorial cup was presented to the seller of the highest priced animal in the sale. The Western Simmental club would like to take this opportunity to thank the Dillon family for their generous sponsorship.
Simmental – The Ultimate Breed!!!!!!!!